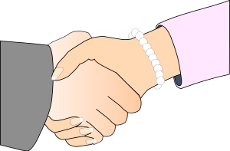 Starting a business doesn't necessarily mean you have to build a brand from scratch. Franchising can provide a shortcut, but it always comes at a cost, as we'll see.
Buying a franchise means you're buying the authorization to sell another company's products in a certain area. The franchisor (the one that created the original business) owns the business name, any trademarks as well as the business's practices and procedures. The franchisee (the one who buys the franchise) gets a license to sell the business's products and services.
Typically, the franchisee pays an up front fee as well as royalties. The royalties are usually based on a percentage of the franchise's earnings. In exchange for this, the franchisee gets to use another firm's successful business model.
Pros and Cons of Buying a Franchise
Advantages:
Buying a franchise has it's benefits. You get to be your own boss while benefiting from different forms of assistance. Advantages include
Association with an established business concept, brand, reputation and product offering.
Sophisticated and centralized marketing.
Management training and operations assistance.
Economies of scale for supplies purchasing.
Assistance with choosing a business location, design and equipment purchases.
Disadvantages:
It's important to be aware of the potential drawbacks to buying a franchise.
You might not be able to implement ideas you have because you have to operate according to the franchisor's operations manual. No matter how beneficial or creative your ideas may be.
Buying a franchise from a successful franchisor can be expensive. There's no guarantee you'll recoup your investment.
Franchise agreements are drafted by the franchisor. As such, they are always written in a way that benefits the franchisor and not the franchisee.
You're at the mercy of your lease agreement. Your landlord is not necessarily obligated to renew your lease. This means that your franchise might come to an end when your lease expires, along with the benefits of the work you put into building your franchise.
The franchisor is under no obligation to renew the franchise. If that happens, the franchisor takes back the business and all of the good will you built up.
The franchisor has control over how many franchises are opened up in your area. If there are too many franchises, or the franchisor decides to start selling product via mail order, it can severely reduce your franchise's profitability.
Finding a Franchise
Places to look if you want to buy a franchise include:
Franchise magazines: There are a number of specialty magazines geared towards people interested in buying a franchise. These magazines provide information and advice about franchising.
Franchise directories: To find a lists of available franchises, you can try a directory such as the Franchise Canada Directory and the American Franchise Directory.
Franchise advisors: Some accounting firms provide services to help find and evaluate franchises.
Internet Searches: There are many websites that provide franchise information. Helpful sites include www.franchisesolutions.com and www.franchiseopportunities.com.
Franchise shows: Look for franchise shows in your area. Try www.franchiseshowinfo.com for information about franchise shows in the U.S. and Canada.
Perform Due Diligence!
Be sure to perform due diligence before you sign. Get advice from your accountant and lawyer.
Make sure you evaluate the franchises you find. Here's a handy checklist of questions you need to ask:
How the franchise makes most of it's money: is it through franchisee royalties or by selling franchises. If it's via franchise sales then this could signal that the franchisor's business model isn't sustainable.
What is the franchisor's business record and reputation?
How much will you have to pay for the franchise?
What kind of financing is available?
Is the income you expect to earn enough to cover your expenses and generate a reasonable profit?
How long will your franchise rights last? Is it enough time to recoup your investment?
Where will your franchise be located?
What kind of training will you receive?
If you want out, does your contract allow you to sell the franchise?